The International Symposium on Brain, Health and Aging was held from May 9-10 2019, in the Institute of Psychology, Chinese Academy of Sciences (CAS), Beijing, China. The conference was hosted by the Center on Aging Psychology, Institute of Psychology, CAS, co-organized by the Aging Research Center, Karolinska Institutet, and Stockholm University. The conference was jointly supported by The National Natural Science Foundation of China (NSFC), The Swedish Research Council (Vetenskapsr?dets, VR), and Key Laboratory of Mental Health, CAS.
The symposium was attended by nearly 100 experts, scholars and entrepreneurs from Sweden, the United States, and China. Prof. Laura Fratiglioni from Karolinska Institutet, Sweden, delivered a keynote speech on "Aging with a healthy brain". Prof. Rhoda Au from Boston University, USA, presented a keynote on the topic of "Precision brain health initiative: precision brain health monitoring platform". Prof. Tianzi Jiang from Institute of Automation, CAS, and Prof. Jianping Jia from Beijing Xuan Wu Hospital, Capital Medical University, China, contributed keynotes on "The human brainnetome atlas and its applications in neuroscience and brain diseases" and "Dementia research in China: an overview" respectively.
Fifteen researchers from Karolinska Institutet, University of Kentucky, Institute of Psychology, CAS, Peking University Sixth Hospital, Shenzhen University, and Shandong Provincial Hospital also presented on theme sessions that involve lifestyle factors for brain aging and dementia, imaging analysis of aging brain and cognitive heath, and multidomain interventions on cognitive aging. A special evening session was arranged to discuss about the career development of junior researchers, during which senior researchers kindly shared their experiences.
In addition, a special roundtable session was organized to discuss about the E-health for research on healthy aging brain as well as international collaboration and data sharing.
This symposium provided a high-level academic exchange platform for scholars in the field of brain, health and aging, on only expanding the existing international Aging research network, as well as building new connections between academic and industrial fields, which in the long run, would promote the translational research and practice on brain, health and aging, and the implementation of the Healthy China initiative.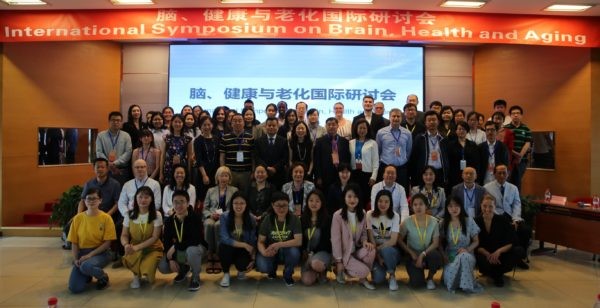 Opening ceremony of the International symposium on brain, health, and aging, Beijing
Written by FU Jiangning Reviewed by Prof.LI Juan