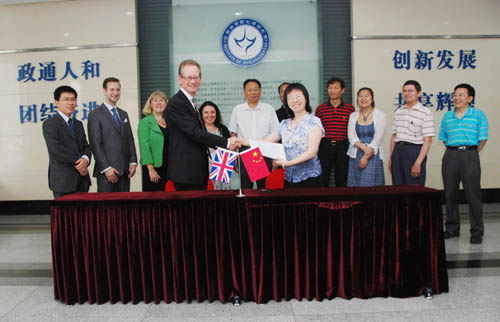 Prof. Fu Xiaolan, director of the Institute of Psychology, and Mr. Carpenter Philip, Wiley-Blackwell vice-president & managing director, social sciences and humanities, signed the agreement of publication of PsyCh Journal(Image by IPCAS)

Sponsored by the Institute of Psychology, PsyCh Journal recently put its website online (http://onlinelibrary.wiley.com/journal/10.1111/(ISSN)2046-0260), marking its launch as China's first English language academic journal of psychology. The journal will be distributed worldwide through the renowned publisher, Wiley-Blackwell, starting in 2012 with four issues a year.

For any scientific discipline, one important indicator of scholarly exchange is an academic journal. Western psychology reached China in the nineteenth century, and in January 1922, East Asia's first journal on the subject, Xinli (Psychology), was founded in Beijing by Zhang Yaoxiang, and earned a certain reputation worldwide even though it only ran for five years and saw but fourteen issues. The first bilingual journal, Zhongguo Xinli Xuebao (Chinese Journal of Psychology), was issued from January 1937 by the Chinese Psychological Society, but soon had to cease publication due to the outbreak of warfare. Over the seventy years, a variety of academic journals have appeared for domestic distribution, but there has been no English language periodical appearing again. The soon to appear PsyCh Journal will be the first truly international journal of psychology to be hosted in China. Giving a comprehensive coverage of the discipline, PsyCh Journal will feature original research and review articles produced in various branches of psychology and related fields.
As a China's national research institute in the field, the Institute of Psychology is committed to promoting the development of psychological research, and to expanding the realm of psychology in China. After nearly two years of deliberation and preparation, the Institute and Wiley-Blackwell have signed a cooperation agreement to launch the first English language journal of psychology from China. Focusing on recent research both within and outside of China, and it will help introduce Chinese achievements in psychology to an international audience, as well as serve as a platform for communication about psychology between China and the other parts of the world.

The journal will be headed by the internationally renowned psychologist Lars-Göran Nilsson, Olof Eneroth professor of psychology at the University of Sweden, and Zhang Kan, Professor and former director of the Institute of Psychology, Chinese Academy of Sciences, as the two editors-in-chief. More than twenty outstanding psychologists from the Chinese mainland, Hong Kong, Taiwan, the United States and Canada, various countries of Europe, and Australia comprise the Editorial Board. The Editorial Office is located at the Institute of Psychology, Chinese Academy of Sciences, where day-to-day operations are handled by Walter Edwards as managing editor, and Wang Richu as editorial assistant. The journal has already issued a call for submissions, now being received at the journal's online submission site.