According to the Notice of Beijing Institutes of Life Science about 2014 annual "Hengyuanxiang Excellence Award" selection results, CHEN Kepu, a doctoral candidate (research assistant now) in ZHOW Wen's research group of department of cognition and development, institute of psychology, won the second prize of the 2014 annual "Hengyuanxiang excellence award".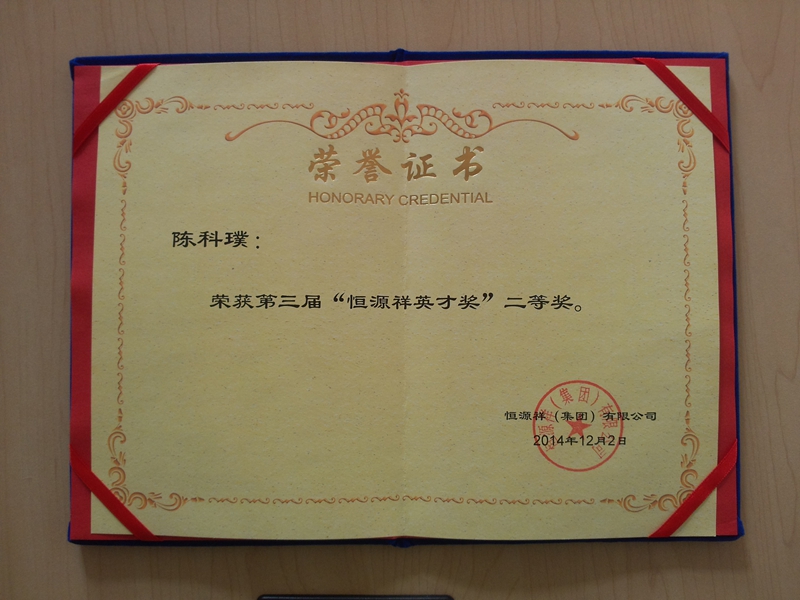 The "Hengyuanxiang excellence award" is set up by Beijing Institutes of Life Science and Hengyuanxiang (Group) Co., Ltd. for the comprehensivestudieson synthesizing information across human senses, such as olfaction, vision, audition, taste and tactile sensation. It aims at encouraging the nationwide graduate students who have gained outstanding achievements in scientific research with potential application value in the fields of sense, neuroscience, psychology, and cognitive behavior. A total of 8 students are awarded via expert reviews under the principles of strictness, fairness and justice, including 3 first-prize winners and 5 second-prize winners.
Dr. CHEN Kepu has been committed to the integration of human olfactory and visual information where the majority of previous studies emphasize the visual influences on olfactory cognitive process at multiple levels. However, Kepu's work firstly provide robust empirical evidence that smell quality acts as an object feature whose presence enhances the perceptual saliency of that object, thereby guiding the spotlight of visual attention. Thus, they proposea multimodal saliency map that weighs not only visual but also olfactory inputs. His recent work uses functional magnetic resonance imaging to probe the neural correlates of olfactory-visual integration. The preliminary results show that in scene perception, this multisensory integrative outputs can activate traditional visual spatial processing brain region, parahippocampal place area (PPA), although which alone does not response to olfactory inputs. Meanwhile, the perirhinal cortex is the site where the olfactory and visual information synthesize, which is in line with the above-mentioned perceptual effect of olfactory-visual integration. Another part of his work focuses on the chemosensory communication of gender between humans. Together with other members in human olfaction lab, they have proven the existence of human sexual pheromones and demonstrated these pheromones can respectively convey masculine and feminine information in manners contingent upon the recipient's gender and sexual orientation, thusbiasing visual gender identification. Based on this interesting finding and the fact that sexual interactions are always governed by internal physiological states, they are further exploring the underlying neuroendocrine mechanism, assessing if oxytocin mediates human chemosensory communications.