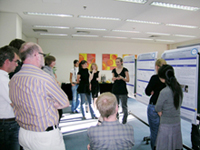 Taking training course           Poster sessions

The first Sino-German fall school of the International Research Training Group (IRTG), which was jointly launched by Institute of Psychology (CAS, Beijing) and Saarland University (Saarbrucken), was successfully hold on October 11-17, 2009 in Beijing. The topic of this Fall school was "Adaptive Minds: Neural and Environmental Constraints on Learning and Memory". Participants included 5 faculties, 11 PhD students and postdocs from department of psychology, Saarland University and 5 young faculties, 10 PhD students from Institute of Psychology, CAS. The invited speakers of the fall school were chosen within a broad coverage of famous professors all around the world, including Tatia M.C. Lee (Hong Kong Unviversity), Tim Curran(University of Colorado), Edward L. Wilding(Cardiff University), Hua Shu (Beijing Normal University) and Shihui Han (Peking University). During the 6-day period of fall school, all participants and invited speaks intensively exchanged academic ideas and research findings within the frame of discovering cognitive neural mechanisms and culture influences underlying human learning and memory. PhD students of both sides also presented their on-going researches by oral presentations and posters. All participants were highly satisfied with the whole training program and considered it as a fruitful event. Saarland University sponsored this fall school and is planning to hold the next training program in the coming year.
The International Research Training Group (IRTG)was initially advocated by professor Weng Xuchu (Institute of Psychology, CAS) and professor Axel Mecklinger (Saarland University ) in 2006, aiming to build up the connections of scholars and researches between Germany and Chinese, and to provide academic training to PhD students of both sides. The fall school in Beijing was the first time that all participants of this project from both Chinese and German side meet together, since the project was launched three years ago. So far, there are about 5 PhD students have had joined the exchange project, and in the near future, increasing numbers of PhD students will also be exchanged to each side. All in all, the IRTG project is a productive program, laying a foundation for a continuing development on international collaboration and training between the Institution of Psychology in Beijing and Saarland university in Germany.
A group photo of the fall school