Schizophrenia has been one of the most important leading topics in psychiatry research worldwide. With a rapid increase of socioeconomic power of Asia, psychiatry research in Asia including schizophrenia has made remarkable progress lately. This conference offered an excellent opportunity for scholars of schizophrenia research from Asian countries to communicate and collaborate with each other.
Members of the NANC Lab and Key Lab of Mental Health, Institute of Psychology, Chinese Academy of Sciences, made a series of presentation at the 2nd Asian Congress on Schizophrenia Research during 2011 February 11-12th in Seoul, South Korea. Though Dr. Raymond Chan (the director of NACN Lab) had not attended this conference because of a clash of schedule for another academic conference in Boston, his lab members had made excellent presentations of the NACN Lab recent findings on schizophrenia at the 2nd Asian Congress on Schizophrenia Research. Members of the NACN Lab attending this conference including Dr. Jia Huang, Dr. Xiaoyan Cao (medical doctor and a third year doctoral student), Ms. Yi Wang (a first year doctoral student) and Ms. Qing Zhao (a second year master student). Ms. Qing Zhao also received the Young Scholar Travelling Award from the organizer to sponsor her trip to present the neural basis of neurological soft signs.
Attendance and presentation at international conference such as this one has had offered an excellent opportunity for postgraduate students to broaden their horizons.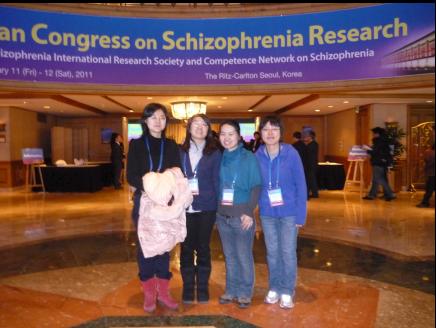 A photo at the conference venue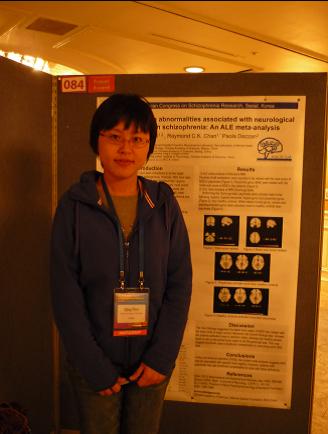 Ms. Qing Zhao at her poster: Structural Brain Abnormalities Associated With Neurological Soft Signs In Schizophrenia: An ALE Meta-analysis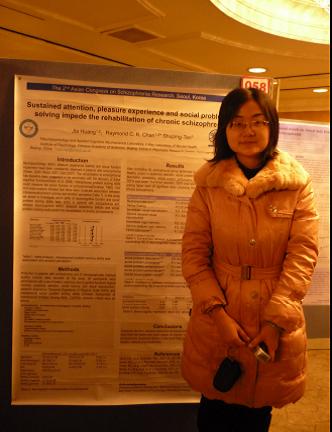 Dr. Jia Huang stands by her poster: Sustained Attention, Pleasure Experience and Social Problem Solving Impede the Rehabilitation of Schizophrenia.