Dr. Raymond Chan of the Neuropsychology and Applied Cognitive Neuroscience (NACN) Laboratory and the Key Laboratory of Mental Health, Institute of Psychology, had organized a symposium titled "Affective Neuroscience Symposium and a Summit Meeting of Key Laboratory of Mental Health" during June 2-3 2013. This symposium was supported by the "Strategic Priority Research Programme ( B) of the Chinese Academy of Sciences.
Emotional and social cognitive disturbance are the core features for many neuropsychiatric disorders including schizophrenia and depression. However, the underlying neural mechanisms of emotional and social cognitive disturbances in these clinical patients are still not yet fully understood. Recent studies also suggest there is disconnection between the outward display of emotion and feeling observed in patients with schizophrenia. The main theme of this symposium was to adopt the affective neuroscience approach to examine the nature of emotional and social cognitive disturbances in neuropsychiatric disorders, particularly in schizophrenia.
During this symposium, Dr. Raymond Chan had invited international and local scholars to present their most updated findings on schizophrenia spectrum disorders, depression, and anxiety disorders. Prof. Morten Kringeblach gave a keynote speech on the functional neuroanatomy of pleasure and the implications for understanding anhedonia in mental illness. Prof. Kringelbach first reviewed the evolutionary perspective of fundamental pleasures afforded by basic instincts to social interactions. Then he presented the current understanding of the fundamental pleasure mechanisms. Specifically, he illustrated the evidence suggesting that the processes involved in anhedonia (a deficit in experiencing pleasure) contribute to the perturbation of large scale brain connection networks in affective and movement disorders. In some instances these networks can be rebalanced through the use of deep brain stimulation in specific brain regions. In summary, new insights from the emerging neuroscience of pleasure hold considerable promise in improving our understanding of anhedonia, potentially leading to better diagnoses and novel treatments.
The second keynote speaker, Dr. Jennifer Lau from Oxford University also gave us an excellent talk entitled "From instinct to reason: immature neural circuits shapes early-onset of anxiety disorders?". Dr. Lau touched on three key questions in her talk, including (1) why do some young people experience greater levels of fears and worries than others? (2) why is the transition to adolescence marked as a period of vulnerability for the onset of persistent fears and worries? and (3) is adolescence also a period of exceptional plasticity and if so, can we challenge early pathological emotional and social development through targeted interventions? She approached these questions through explanations at multiple levels, from genes to the social environment, and through interventions also targeting multiple levels, and from neural mechanisms to cognitive biases.
Prof. David Shum and Dr. David Neumann from Griffith University also delivered talks on hot executive functions in middle childhood and psychophysiological study of empathy, respectively. Other local speakers also shared their updated research findings on schizotypy, schizophrenia and major depression. These included Prof. Xin YU's team from the Institute of Mental Health and Prof. Chuanyue Wang's team from Anding Hospital. Dr. Raymond Chan's team also presented their most recent findings on the neurobiology of schizotypy and related imaging work on hedonic capacity and social cognition across the spectrum of schizophrenia disorders.
All presenters then started off a very fruitful discussion on affective neuroscience of mental disorders and explored future research potential on this area. After the symposium, Prof. Kringelbach and Dr. Jennifer Lau also visited Dr. Raymond Chan's clinical collaborators.
In summary, this symposium was held successfully and has achieved the main aim to facilitate and strengthen the existing collaboration among the speakers, and started off potential work on emotional and social cognition in neuropsychiatric disorders. It was a fruitful event to facilitate further collaboration among scholars and clinicians in Beijing, Oxford and Brisbane.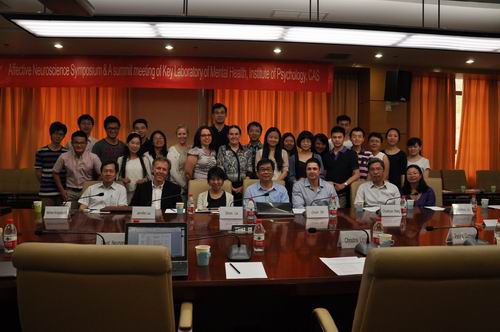 A group photo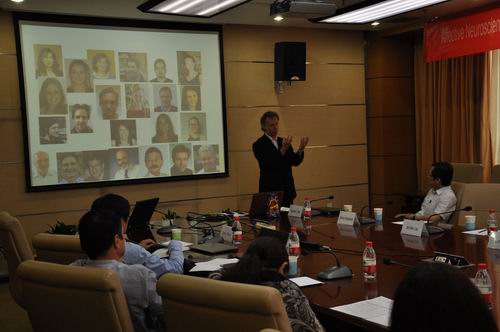 Prof. Kringelbach is illustrating his teams' work on the neural mechanism of pleasure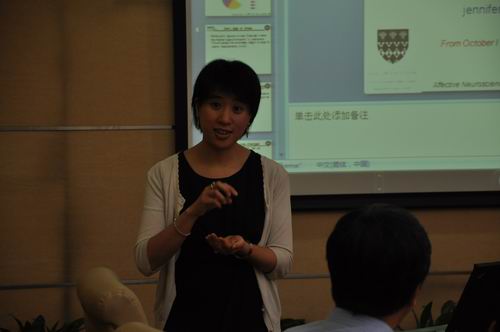 Dr. Jennifer Lau is responding to the queries raised by the audience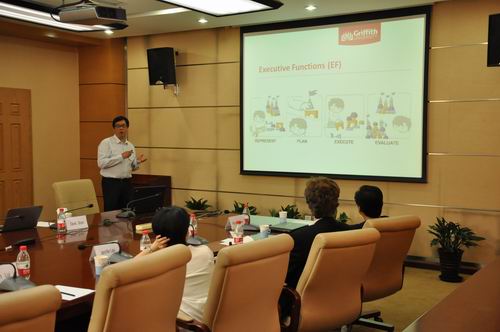 Prof. David Shum is presenting his findings on the hot and cool executive function performances in children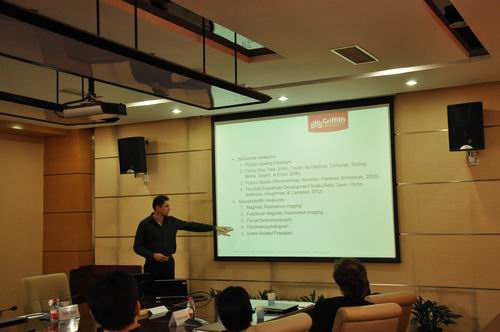 Dr. David Neumann is presenting his work on the neural basis of empathy