The global food and food technology market is in rapid growth, and food quality monitoring and related issues are central to our everyday life. However, the study of food quality and its relationship to physical and mental health is relatively new to the field of neuroscience and mental health. In order to bridge such a gap, Dr. Raymond Chan from the Neuropsychology and Applied Cognitive Neuroscience (NACN) Laboratory, CAS Key Laboratory of Mental Health, and Department of Psychology, University of Chinese Academy of Sciences and Prof. Derek Byrne, the science team leader of the Department of Food Science at Aarhus University, Denmark have organized the first food science symposium to identify and strengthen the roles of neuroscientist, psychologist and nutritionist in this newly developed field.
The symposium was held on June 5th at the Institute of Psychology, Chinese Academy of Sciences. Both Dr. Chan and Prof. Byrne shared their views how neuroscientist, psychologists and nutritionist could contribute their unique roles to the field of food science. In particular, Dr. Chan presented his most recent work on the reward system in both clinical and subclinical samples that may help understand the underlying neural mechanism of food anhedonia, food addiction and eating disorders. Prof. Byrne presented their newly developed multidisciplinary food science programme in Denmark and their background work in food quality and health issues.
During the symposium, Drs. Kui Wang and Yi Wang also presented their recent work on body image and the underlying neural changes in individuals with a propensity for eating disorder behaviour and clinical cases with eating disorders, respectively. Dr. Barbara Vad Andersen and Ms. Mette Hansen (doctoral candidate) of Prof. Byrne's team presented their work on food quality and eating behaviour in Denmark.
After the presentation, the key members of the two teams had made a fruitful and in-depth discussion on potential collaboration on food science in China and Denmark. Both Dr. Chan and Prof. Byrne agreed there would be ample opportunity for them to contribute to food sicnece research between the two teams.
Participants of this symposium also included Prof. Morten Laugesen (Deputy Director of the Sino-Danish Porgramme from Denmark), Prof. Ulna Kidmose, Ms. Anne Bertelsen, Dr. Ya Wang, Dr. Xue-bing Li, and a total number of 20 students from both groups took part in the symposium.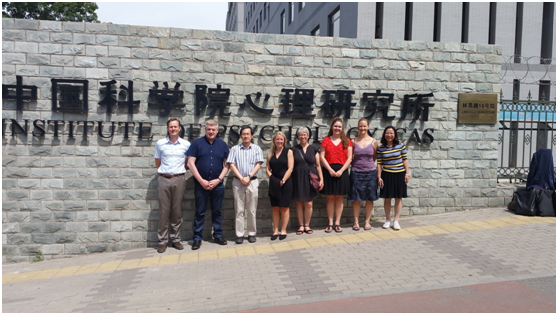 A group photo for the faculty members from Prof. Derek Byrne and Dr. Raymond Chan's team