As life expectancy increases, aging and cognitive decline becomes inevitable. To tackle this problem, practical interest has been attracted to executive function training, and the plasticity of inhibitory processes was especially highlighted due to its critical contributions to cognitive aging. Theoretically, it is also important to derive empirically the impact of training to untrained abilities of working memory and fluid intelligence via assessments of far transfer effects.
A study which was led by Prof. HAN Buxin's team from the Key Lab of Mental Health, Institute of Psychology, Chinese Academy of Sciences simultaneously investigated the plasticity of three critical inhibitory processes of access, deletion, and restraint, as well as the associated far transfer effects of inhibition training among older adults.
Based on a randomized control design, 36 elderly participants were allocated to the training and active control groups. The training group received a training session thrice per week over the four week span, during which computerized tasks on each inhibitory processes and group games on restraint were trained. Over the same week span, the active control group attended one mental health lecture per week instead for controlling potential motivational effects from training.
After the completion of inhibition training, the access and deletion processes clearly demonstrated the training gains session by session (Figure 1). Nevertheless, only the deletion process exhibited plasticity based on marked near transfer effects (Table 1) compared with the potentially improved access performance (Figure 2; unexpected T3 amplitude reduction but no changes of T1D2 amplitude on the access process). However, the restraint process was unable to sustain training gains even at the first few sessions. The findings in addition favored far transfer to fluid intelligence. Noted that the training effects on deletion and fluid intelligence were robust and were persisted after three months. Moreover, a further analysis suggest that the plasticity of deletion and far transfer to fluid intelligence were perhaps related (Table 2).
The paper is now available online in Psychology and Aging .
This study was supported by Science and Technology Service Network Initiative (KFJ-EW-STS-025), and the Foundation for the Author of Excellent Doctoral Dissertation of the Chinese Academy of Sciences.
Contact:
HAN Buxin
Institute of Psychology, Chinese Academy of Sciences
hanbx@psych.ac.cn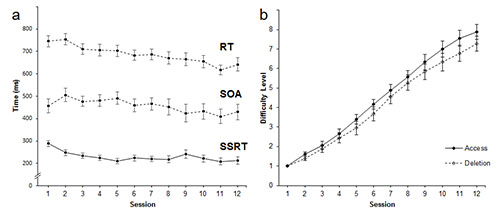 Figure 1. Performance curves for inhibition-training tasks. a, Performance improvements in overall reaction times (RT), stimulus onset asynchrony (SOA), and stop-signal reaction time (SSRT = RT - SOA) of the restraint training task (i.e., the criterion task). For each session, the mean time and standard error achieved by the trained participants is presented. b, Performance improvements in the access- and deletion tasks based on training level achieved.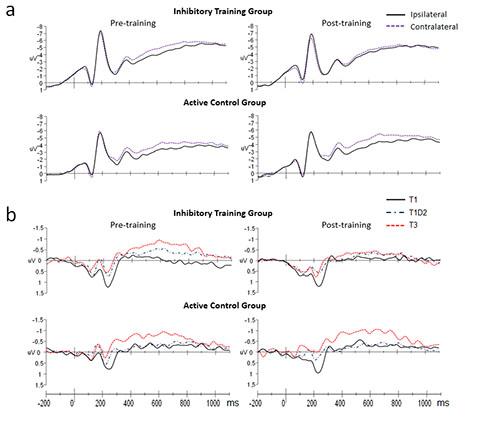 Figure 2. Transfer to CDA from the change-detection task. a, Lateralized traces from waveforms contralateral versus ipsilateral to cued stimuli, T3, averaged over all channels. b, Difference waves (contralateral minus ipsilateral) of the training and control groups at pre-test and post-test. T1 = 1-target condition; T1D2 = 1-target-2-distractor condition; T3 = 3-target condition.


Table 1.Performance in Near-transfer Tasks as a Function of Training Group and Session


Table 2.Associations between Near Transfer to Inhibitory Processes and Far Transfer to Gf