It was found that China's overall rice-wheat difference led to southern China more collective than north China divided by Qinling-Huaihe Line. Are individuals from rice islands more collective than its surrounding neighbors even if it located in north China? The answer is yes.
REN Xiaopeng from ZHU Tingshao team of the Institute of Psychology, Chinese Academy of Sciences (CAS) found that Qingtongxia of Ningxia is an isolated rice area sitting in a sea of wheat and herding in North China (Fig.1). Its special location near Yellow River with sufficient water to farm rice which give researchers a natural case to examine the effect of rice-farming on collectivism.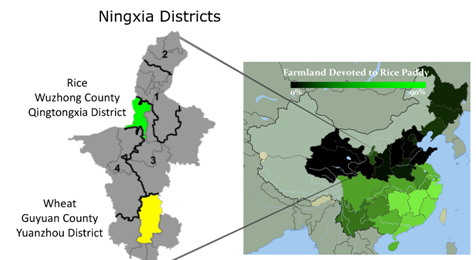 Fig.1 Location of rice island and its contrast group
Teenagers from rice-island (Qingtongxia) and its contrast ( Yuanzhou county) had been given multiple individualism/collectivism tasks. The results showed that teenagers from rice-island thought more holistically and treated close friend better than stranger and showed lower implicit individualism than its contrast. For Frame-Line task, teenagers from rice-island showed more relative perception at beginning than those in wheat contrast and later the differences decreased to the extent which is not significant (Fig.2).
Fig.2 cultural task and results. (a) upper left: triad task upright; (b) upper right: implicit individualism; (c) lower left: nepotism task; (d) lower right: Frame-Line task
These findings provide more evidence to support that historical subsistence system continue to have effect on individualism/collectivism into modern era. Compared with farming wheat, farming rice which needs more labor exchange and irrigation management push people to be more collective. These findings add valuable information to understanding of the relationship between historical ecology and individualism/collectivism.
Thomas Talhelm of Booth Business School, University of Chicago participated in this project and Dong Xiawei of Master student of institute of psychology, CAS was the first author and REN Xiaopeng corresponding author. The study was supported by open funding of the department of psychology, Renmin University of China (RUCPSY0009).
The paper entitled "Teens in Rice County Are More Interdependent and Think More Holistically Than Nearby Wheat County" was published online in Social Psychological And Personality Science.
Dong, X., Talhelm, T., & Ren, X*. Teens in Rice County Are More Interdependent and Think More Holistically Than Nearby Wheat County. Social Psychological And Personality Science, 0(0),
1948550618808868. doi:10.1177/1948550618808868
Link:
https://doi.org/10.1177/1948550618808868
Resource:
REN Xiaopeng
ZHU Tingshao team
Contact:
Chen LIU
Institute of Psychology
Email: liuc@psych.ac.cn