Ms. Zhuo-ya Yang, a final year doctoral student from the Neuropsychology and Applied Cognitive Neuroscience (NACN) Laboratory, CAS Key Laboratory of Mental Health, the Institute of Psychology has recently received the Young Investigator Award of the 2019 Schizophrenia International Research Society (SIRS). Ms. Yang attended the conference on April 9-14th 2019 in Orlando and reported her work on "Abnormal activation when envisioning positive future events in individuals with social anhedonia". There were a total of 41 Young Investigator Awards granted out from 400 applicants. The NACN Laboratory has received a total of 8 awardees with similar titles for their excellent schizophrenia research. The SIRS is the most important meeting in the field of schizophrenia research. It takes place each year in United States and Italy alternatively. For the past few years, over a thousand of researchers and scientists came from different countries attended each conference and exchange their data, techniques and ideas, which helped to facilitate the scientific research and clinical treatments.
Dr. Raymond CHAN was also invited to join the newly established Diversity Task Force under the umbrella of the SIRS. This task group is chaired by Prof.Sohee Park from Vanderbilt University and formed with members from different ethnicities including Harvard University, Toronto University, University of Wisconsin-Madison, Sydney University, Institute of Psychology of the Chinese Academy of Sciences. The main aims of this task force are to promote and facilitate schizophrenia research collaboration and related issues globally, focus on how best to diversify its membership, congresses and other activities of the Society so that researchers world-wide can contribute towards and benefit from the SIRS mission, regardless of their origin, race, ethnicity, gender or views. A workshop was organized by the task force and presentation was made by each member of the task force. Dr. Raymond Chan has made a presentation to cover the needs and challenges of schizophrenia research in mainland China.
Moreover, members from NACN Laboratory and the joint lab between Shanghai Mental Health Centre also attended and made a series of presentations at the SIRS, including Dr. WANG Yi (associate researcher) on the reverse pattern of thalamo-cerebellar brain connectivity exhibited in individuals with positive and negative schizotypy, and Ms. Hui-xin Hu (a final year of master student in Shanghai Mental Health Centre) on negative belief updating bias for positive life events in patients with schizophrenia.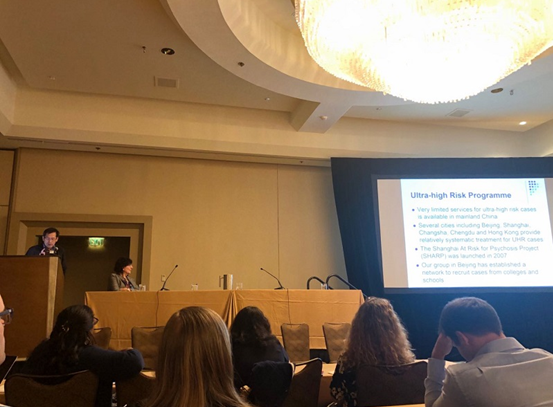 Dr. Raymond Chan was presenting for the Diversity Task Force Workshop at the SIRS Conference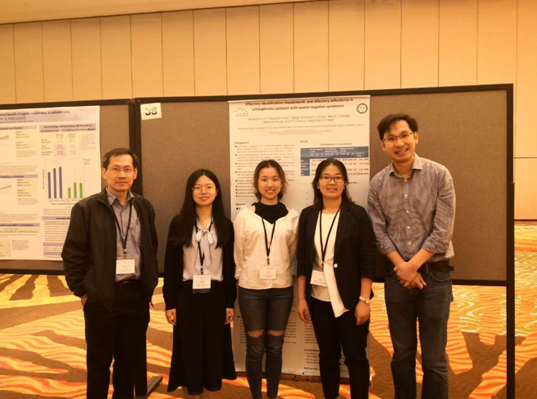 A group photo with the present and former members of the NACN Lab (From Left: Dr. Raymond Chan, Ms. Zhuo-ya Yang, Ms. Hui-xin Hu from Shanghai division, Drs. Yi Wang and Simon Lui (a former doctoral graduate)
Ms. Zhuo-ya Yang at her poster
Dr. Yi Wang was presenting her findings at the poster stand.
Contact:
Ms.Chen LIU
Institute of Psychology
Email: liuc@psych.ac.cn